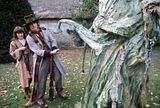 2|Entertain have confirmed the fourth Doctor story
The Seeds of Doom
, will be released in the UK on
25th October 2010
.
This story was originally due for release in 2011. The Revisitations boxset was due in October but has not clear if this has been postponed or if The Seeds of Doom is an additional release.
Originally shown in the first part of 1976, The Seeds of Doom was the final story of Series 13. As well as starring
Tom Baker
as the Doctor, it features
Elisabeth Sladen
as Sarah Jane Smith,
Sylvia Coleridge
as Amelia Ducat,
Mark Jones
as Arnold Keeler,
John Gleeson
as Charles Winlett,
John Challis
as Scorby and
Tony Beckley
as Harrison Chase.
Made in six parts, the story was written by
Robert Banks Stewart
and directed by
Douglas Camfield
, and is one of the most fondly remembered stories from the fourth Doctor's era.
As we previously
reported
Tom Baker has recorded the commentary track for the release along with John Challis and
Philip Hinchcliffe
, who was producer at the time.