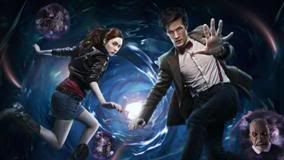 Final figures are now available for the BBC HD showing of
Doctor Who: The Big Bang
and give the episode an official rating on the channel of
0.58 million
viewers. This, along with the previously reported figure of 6.12 million viewers on BBC One, gives the episode a total rating of
6.7 million
viewers. Full details for the week are still not available, but it is likely this will make Doctor Who the
10th
most watched programme of the week.
Final figures for the whole series show that, despite recent press speculation, Doctor Who is still achieving remarkable ratings for the BBC and remains one of its most successful products. Once consolidated figures are published then the five series of the show, shown since the return in 2005, have all achieved remarkably similar average ratings of around 8 million viewers. Matt Smith's first series just out-rates David Tennant's first two series but comes behind Tennant's last series. The variable earlier start times given to Series 31 compared to recent series appear to have resulted in more of the audience recording the show for later viewing, meaning lower overnights, but balanced when final consolidated figures are published
In terms of Chart position, once HD figures are included, Doctor Who has finished in the weekly top twenty throughout the series, with seven episodes finishing in the top ten. The high was 3rd place for The Eleventh Hour and the low was 20th for The Lodger, shown against World Cup football. The average chart placing was 12th, which again is higher that achieved by three of the previous four series.
One of the big successes of the recent series has been the take up on iPlayer. This year was the first time the whole series has been available during its run. Over 2 million have now accessed The Eleventh Hour and it has become by far the highest accessed programme in the BBC iPlayer history. The iPlayer simply measures those who have accessed the programme and no data is available to covert this figure to ratings in the conventional sense. However the figure does give an indication of how popular the programme is with the audience.
Full ratings for the series can be found in
Gallifrey Base
.