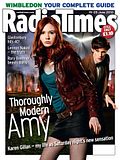 The new issue of the Radio Times
(week commencing 19th June)
joins the collection of those that feature Doctor Who on the cover; this issue promotes
Karen Gillan
, who is interviewed inside the magazine about playing the part of Amy Pond, and acting alongside Matt Smith.
We just kind of bounce off each other. The banter that you see on screen – that's what we're like all day on set. I sometimes wonder if it's our way of keeping our energy up between scenes, but it's all subconscious. And I think we might have been like that if we'd met in any other situation.

The one thing I never wanted to do with Amy was to base her on any kind of formula, to conform to what works – or what has worked – in a companion; you know, the whole, likeable, girl-next-door business. Amy is likeable, I hope, but she's not ordinary. She's quite complicated and there are layers to explore. So I was taking a few risks with her and I think it works.
This year has previously seen Radio Times covers for
The Eleventh Hour
and three versions for
Victory of the Daleks
.