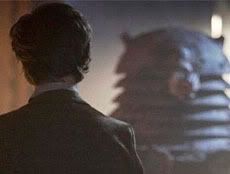 The final episode in the current series of Doctor Who,
The Big Bang
, had an audience of
5.1 million
viewers, according to unofficial overnight figures.
The programme had 4.6 million watching on BBC One, with and additional 0.5 million watching on BBC HD. The share of the audience was
31%
. Despite the early start, and baking hot weather across the UK, it was the second highest rated programme of the day and the highest rated programme on BBC One, beating Casualty by over a million viewers. The winner of the night was World
Cup Live: USA v Ghana
on ITV1 which had 5.7 million viewers.
Doctor Who won its time slot, with BBC Two, showing British hope Andy Murray playing at Wimbledon, coming second. In Scotland the Murray match just out-rated Doctor Who for most of the episode. The Big Bang peaked with 5.1 million on BBC One and 0.5 million on BBC HD.
Doctor Who currently stands as the 17th most watched programme of the week. Final figures, released next week, should see the programme in a significantly higher place.
On BBC Three,
Doctor Who Confidential
had
0.59 million
watching, a 3.6% share of the audience