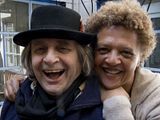 The Doctor is to be reunited with Brigadier Winifred Bambera in a new audio adventure from
Big Finish
.
The character, reprised by actress
Angela Bruce
, will feature in the story
Animal
, which forms part of the second season of
Lost Stories
. It is written by former script editor
Andrew Cartmel
, and sees Bambera once again encountering the seventh Doctor, played by Sylvester McCoy.
Says series producer David Richardson:
Animal is a great, old-fashioned UNIT story, in which Bambera and her troops are investigating some strange events at a university. And then the Doctor and Raine arrive...
Recording took place in April, and the story/series is available to pre-order.