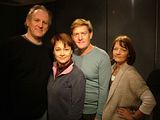 Big Finish Productions is to hosting a one-day internet-based event on
Saturday 3 July 2010
, giving fans an opportunity to download a free episode of
Doctor Who
.
For one day only, episode one of
Cobwebs
will be available to download free of charge. The story is the start of the new trilogy that reunites the Fifth Doctor with Tegan, Turlough and Nyssa for the first time in 26 years.
Executive producer Nicholas Briggs said
We were thrilled that Janet has elected to join the Big Finish fold, and I can promise that this trilogy of Cobwebs, The Whispering Forest and The Cradle of the Snake will delight all fans of that era. On Big Finish Day, you'll get a chance to hear an early preview
of that brilliant TARDIS crew in action.
Also during the day the first 50 Doctor Who main range titles will be available to buy for just £5 each, on CD or download.
Executive producer Jason Haigh-Ellery said
We're aware that some Doctor Who fans have never tried Big Finish, and we're also aware that some people have the more recent titles but have never dipped into the back catalogue. This is a chance for them to do so.
As well as additional sale items, the Big Finish website will be offering a selection of wallpapers for download, featuring some of Alex Mallinson's most inspired artwork.
Big Finish Day is only at
www.bigfinish.com
.