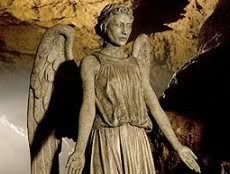 Final figures for
The Time of Angels
published today by
BARB
show the story was watched by
8.59 million
viewers.
The figure is, once more, much greater than the initial overnight figure, indicating many record the programme for watching later.
The programme got 8.13 million viewers on BBC One, where it was the fifth most watched programme for the channel for the week. An additional 0.46 million watched on BBC HD. When the figures are added together it gives Doctor Who a total of 8.59 million viewers and makes it the eighth most watched programme of the week.
The BBC Three Sunday repeat did not appear in the top ten for the week for the channel. The HD showing of Confidential did make it into the HD chart with 0.092 million watching, 9th for the channel for the week.