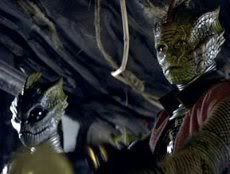 The Hungry Earth
was watched by
4.5 million
viewers according to unofficial overnight figures.
The glorious weather across the UK on Saturday saw the series fall to the lowest overnight total since the series returned in 2005. 4.24 million watched on BBC One with an additional 0.30 million watching on BBC HD. The share remained consistent with 32.2% of the total audience.
Only 13.1 million were watching TV when Doctor Who started implying many were still out enjoying the hottest weekend of the year. The programme inherited an audience of 1.8 million viewers from
Junior Apprentice
and peaked with 4.8 million on BBC One.
The winner of the night was
Over the Rainbow
, with the results show topping the night with 6.2 million and the earlier show getting 5.8 million watching. Both
Casualty
and
The National Lottery: In It to Win It 2012
beat Doctor Who with the programme coming fifth for the day. With Sunday's overnight figures to come Doctor Who is the 32nd most watched programme for the week. Against Doctor Who, ITV1 achieved 1.9 million for
The Whole 19 Yards
.
Final figures will be released next week and will include those who recorded the programme for viewing later. The lowest confirmed figure for the revived series so far is 6.1 million for The Satan Pit in June 2006.
On BBC Three,
Doctor Who Confidential
had
0.28 million
watching and was 15th for the day on Multi-Channel Television.