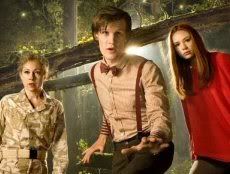 Flesh and Stone
scored an Appreciation Index figure of
86
.
The AI or Appreciation Index or AI score is a measure of how much an audience enjoyed a programme. The score was the highest of the day on either of the two main channels.
Sunday's BBC Three the Doctor Who repeat was watched by
0.63 million
and was the eighth most watched programme on multi channel television. It had a remarkable AI of 91, although it should be noted AI figures for the minority channels are usually higher than those for the main five.
Satuday's
Doctor Who Confidential
had an audience of
0.52 million
with the cut down repeat on Sunday being watched by
0.32 million
viewers.