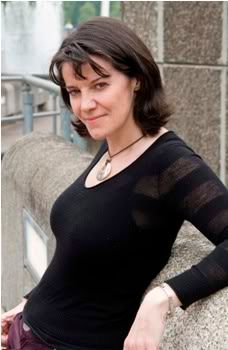 Big Finish
have announced the details for the Eleventh Season of the
Bernice Summerfield Adventures
.
Bernice Surprise Summerfield was originally created by
Paul Cornell
as a new companion of the Seventh Doctor in Virgin Publishing's range of Doctor Who Novels. Big Finish have been producing audio plays featuring the character since September 1998.
Four new audio adventures will be released this year, plus a new hardback collection of short stories. This eleventh season of stories, starring the archaeologist from the 26th Century, will begin with a two-part conclusion to the long-running 'Braxiatel' story arc. The season midpoint, starting with the third release, will mark a new beginning in a new setting.
Story producer John Ainsworth says:
This is a really exciting turning point for Bernice Summerfield – both the character and the series, Listeners have been waiting a long time for the answers to some burning questions and now it's time to deliver. But by concluding the 'Braixatel' story arc half-way through the season, we're also giving new listeners a perfect opportunity to sample Benny and come on board. No prior knowledge of the characters or the series is required to understand and enjoy the third and fourth plays in this series. It's a fresh start.
The series kicks off with what is effectively a two-part adventure,
Resurrecting the Past
(August) and
Escaping the Future
(September), both by Eddie Robson and starring all the regular supporting characters from The Collection. Robson, who is also editor of this year's hardback book,
Present Danger
, the events of which are set between his two audio plays, says
We've been building up to a resolution on the Braxiatel arc for years, and I don't think the scale of it will disappoint. In order to really give the resolution the space it demands, we've given over this year's short story anthology to the wrapping-up events - the plays still make perfect sense if you don't read it, but it'll give you a broader view on the situation if you do. Everyone has a part to play - but will they all see the end of it?"
Present Danger will be published in September and includes stories by Kate Orman, Lance Parkin, Mark Clapham and Simon Guerrier.
Summerfield gets a new start from the third audio release in October with
Year Zero
by Jonathan Clements. This is followed in November by
Dead Man's Switch
by John Dorney and Richard Dinnick. Each is very much a self-contained tale but both fit into a new story arc that will continue and conclude in Season 12. This new beginning takes the character back to basics and once again focuses on her skills and experience as an archaeologist.
Lisa Bowerman, who plays Bernice Summerfield, is also excited about the new direction for the series:
After the dust settles on one chapter, she's going back to her boots and back to her roots. I can't wait!
Big Finish have also confirmed they have commissioned a second season of
Jago and Litefoot
.
The first season of adventures featuring the characters of Henry Gordon Jago and Professor George Litefoot will be released next month. The duo first appeared as supporting characters in the classic Tom Baker story The Talons of Weng-Chiang.
Producer David Richardson said
We had such a fun time making the first series, and I'm really proud of it – I'm optimistic that people will be scared, excited and amused by these new audio adventures. There's a real buzz about it – and I'm delighted to say that as a result series two is already in a very advanced state of preparation. Obviously we don't want to say too much about it yet, as people have yet to enjoy the first four stories. But I can say that we have the brilliant David Collings joining the regular cast as Gabriel Sanders, while our guest stars in series two will include Vernon Dobtcheff and Simon Williams.
Season Two, which will also be released in a five-disc box set, will be available in January 2011.