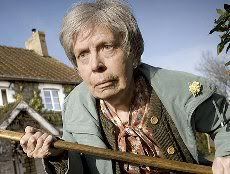 Unofficial overnight figures show
Amy's Choice
was watched by
6.2 million
viewers.
5.85 million watched on BBC One, where it was again the most watched programme of the evening, with an additional 0.34 million watching on BBC HD.
On a day when ratings were generally down on the previous week's figures, Doctor Who retained its audience and therefore increased its share to
33.0%
of viewers.
The day was won once again by
Britain's Got Talent
with 9.7 million watching, a drop of a million on the previous week. On ITV1 against Doctor Who,
You've Been Framed! Funniest 100
had 4.2 million watching.
Doctor Who is currently 17th for the week.
On BBC Three,
Doctor Who Confidential
had an audience of
0.49 million
, where it was the 5th most watched programme on multi-channel Television. An additional 0.07 million watched on BBC HD.