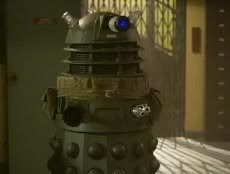 Victory of the Daleks was watched by
6.2 million
viewers, according to unofficial overnight figures.
With a share of
32.7%
the rating is the second highest of the day.
Britain's Got Talent
stole the night with 10.6 million viewers and a 44% share of the audience. Doctor Who was still nearly a million viewers ahead of the third placed programme, the BBC News.
An additional
231,000
watched the later showing on BBC HD, although as the showing wasn't simulcast the figures won't be added together.
Doctor Who is currently sixteenth for the week, a position which should rise when the official ratings are released next week.
On BBC Three,
Doctor Who Confidential
was watched by
0.59 million
with a share of 3.1%. An additional 0.12 million watched on BBC HD.