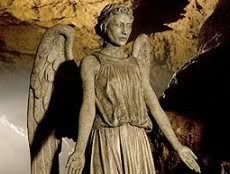 The
BBC Press Office
has released details of the fourth episode of the new series
The Time Of Angels
.
The story by
Steven Moffat
will air in the UK on 24th April at a provisional time of 6.25pm. Schedules will be fixed next Wednesday.
The episode sees the return of two Steven Moffat creations, The Weeping Angels from the Series Three story,
Blink
, and River Song played by Alex Kingston, from the Series Four stories
Silence in the Library
and
Forest of the Dead
.
The Doctor is recruited by Father Octavian to track the last of the Angels through the terrifying Maze Of The Dead.

Meanwhile, the mysterious River Song re-enters the Doctor's life – but can he trust her?