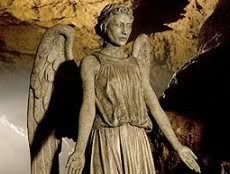 The Time of Angels
was watched by
6.8 million
viewers according to unofficial overnight figures.
BBC One had 6.5 million watching with an additional 0.3 million watching on BBC HD. The total share was 36.7%. Doctor Who was again the second most watched programme of the day with
Britain's Got Talent
getting 10.5 million. Third placed was
Casualty
with 5.5 million watching.
The cartoon
Graham Norton
didn't prevent over two million leaving BBC One once Doctor Who finished. The average audience for BBC One between 7.00-7.05 was 7.01 million and the average between 7.05-7.10 was 4.81 million.
Overall Doctor Who currently stands at
twelfth
for the week with a final top ten place almost certain.
On Multi-Channel Television,
Doctor Who Confidential
received
0.57 million
viewers on BBC Three, with an additional 57,000 watching on BBC HD.