Over a dozen never before published colour photos from the filming of the 1967 Doctor Who story
The Abominable Snowmen
have been discovered, and will be featured in the forthcoming limited edition version of
Deborah Watling
's autobiography
Daddy's Girl
from Fantom Publishing.
Says co-writer Paul Ballard:
It really was an exciting find! We were trawling through the masses of documents, cuttings and photos in the Watling family archive when we chanced upon a huge box of holiday slides. One of the cases was labelled very faintly as Dr.Who (Wales).
There are a selection of photos featuring the cast – including Debbie's father Jack Watling, and co-stars Patrick Troughton and Frazer Hines – and crew filming with the dreaded Yeti up Snowdonia.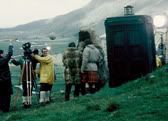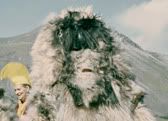 © Deborah Watling, reproduced with permission
Also contained in the limited edition hard back will be a treatment for a series entitled
House of Watling
. This comedy was due to be launched by ITV in the early eighties and would have seen the whole family playing themselves in a variety of real life situations. This is the first time the full premise will be made available to the public.
The book will be launched at the Utopia event at Heythrop Park on the weekend on 15-16 May. You can pre-order the book at the Fantom Films website.