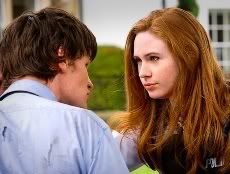 Final figures for
The Eleventh Hour
have today been published by
BARB
and give Matt Smith's debut story an final rating of
10.08 million
viewers.
This total is over two million higher than the initial overnight figure of 8 million which implies a large number of viewers time shifted the programme by recording it and watching it later in the week.
On BBC One the story had 9.59 million watching, enough to make the story the second most watched on the channel for the week and the fourth most watched on all British television. However an additional 494,000 people watched the simulcast on BBC HD, giving the story a total audience 10.08 million and making it the
third
most watched overall. It was only beaten by two episodes of Coronation Street. The programme got nearly 4 million more viewers than any other programme on Saturday.
The Eleventh Hour has the eighth highest rating since the series returned in 2005. If the HD figure is included it is the first episode in the programme's history to be the third most watched of the week. Only twelve out of 757 episodes have ever made the top five. It is the third highest premier story with only Tom Baker and Christopher Eccleston's first stories rating higher.
The episode has also spent most of the week in the top ten list of iPlayer requests, with nearly a million downloads so far.