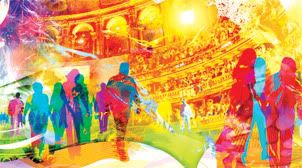 Two
Doctor Who Proms
have been announced by the BBC and will take place over the weekend of
24th/25th July
2010.
This will be the
second time
music from Doctor Who has been featured at the Proms. Founded in 1895, the
Henry Wood Promenade Concerts
are an eight-week summer season of orchestral classical music concerts and other events held annually, predominantly in the Royal Albert Hall in South Kensington. Since 1927 they have been run by the BBC. In 2008 a Doctor Who Prom showcased the work of
Murray Gold
, who has composed the incidental music for Doctor Who since its return in 2005 along with other space related pieces of classical music.
The 2010 season will follow the same format comprising a mix of traditional and modern music. The two proms will have the same running order and both will be hosted by
Matt Smith
and
Karen Gillan
and feature the
London Philharmonic Choir
and the
BBC National Orchestra of Wales.
A number of Who related events have been organised over the weekend.
Tickets will go on
sale
, online, by telephone and in person on
Tuesday 4 May
at
8.00am
.
SATURDAY 24 JULY 2010
5.45pm Proms Intro
Join members of the Doctor Who sound design team to discover how they create the stunning sound scapes for the BBC TV series. Presented by Matthew Sweet. At the Royal College of Music.

Prom 10
: 7.30pm–9.30pm
Venue Royal Albert Hall
Tickets £7–£35,
price band A
or
Prom for £5
Broadcast live on BBC Radio 3. Recorded for future broadcast on BBC Three. Available worldwide on iPlayer for 7 days.
Programme to include:
Murray Gold Music from the Doctor Who series(c40 mins)
John Adams Short Ride in a Fast Machine (5 mins)
Holst The Planets – Mars (6 mins)
Orff Carmina burana – 'O Fortuna' (5 mins)
Wagner Die Walküre – The Ride of the Valkyries (5 mins)
SUNDAY 25 JULY 2010
Prom 11
: 11.00am–1.00pm
Venue Royal Albert Hall
Tickets £6–£12,
price band G
or
Prom for £5
Programme to include:
Murray Gold Music from the Doctor Who series(c40 mins)
John Adams Short Ride in a Fast Machine (5 mins)
Holst The Planets – Mars (6 mins)
Orff Carmina burana – 'O Fortuna' (5 mins)
Wagner Die Walküre – The Ride of the Valkyries (5 mins)