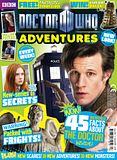 With the new series approaching, this weeks Doctor Who Adventures has a sneak peek at the Doctor's first episode,
The Eleventh Hour
.
There's also the first in a series of exclusive diary reports from Matt Smith – this week he tells all about the first few months of being the Doctor.
Plus a free TARDIS clock, the chance to win a life-size Dalek, 10 incredible facts about the Doctor and posters.