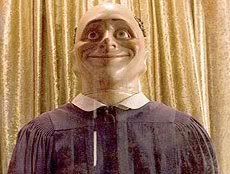 The Beast Below was watched by
6.7 million
viewers, according to unofficial overnight figures.
The programme had an audience of 6.4 million on BBC One, with an additional 330,000 watching on BBC HD. The programme's share was
34%
. Although a drop on the previous week, the programme was still the most watched of the day, beating the second-placed
National Lottery
by 0.8 million viewers. It is very rare for a programme placed so early in the evening to top the ratings for the day, especially on what was, wether-wise, one of the Saturdays of the year so far in the UK.
Harry Potter and the Order of the Phoenix
performed the best for ITV1, with 5.7 million watching the network premiere. The
FA Cup
had an average of 3.3 million viewers, with a peak of 4.9 million against Doctor Who.
The highest peak of the day was between 4.15pm and 4.30pm when 7.6 million watched the
Grand National
horse race on BBC One.
Overall, the programme currently stands as the twelfth most-watched of the week, with Sunday's ratings still to come. A top ten place is still a possibility once the final ratings are calculated next week.
On BBC Three, Doctor Who Confidential was watched by
0.56 million
viewers, a
2.7%
share of the audience.