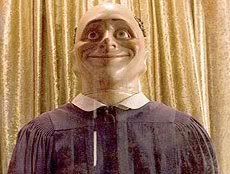 The Beast Below achieved an AI score of
86
.
The AI or Appreciation Index or AI score is a measure of how much an audience enjoyed a programme. The score was the same as that for The Eleventh Hour and is classed as excellent. Doctor Who had the joint highest score on BBC One and ITV 1 for the day, along with Casualty and Harry Potter.
The Sunday repeat was watched by
0.75 million
viewers, where it was the 5th most watched programme of the day on multi -channel television. The share was 3.1%. On the main channels, Sunday's
Coronation Street
got 40,000 more viewers than Saturday's Doctor Who, pushing Doctor Who down to thirteenth place for the week. The position will almost certainly rise when final consolidated figures are published next week.