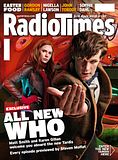 The new issue of the
Radio Times
is released in the UK today, and gives an exclusive glimpse into the new TARDIS with a special pull-out gatefold cover.
The magazine talks to new Doctor
Matt Smith
. Smith is a graduate of the University of East Anglia, where he studied drama and creative writing, and has his own way of accessing the enigmatic Doctor.
I was thinking, 'Who in the world has a brain and a silliness which is close to the Doctor?' and then I saw that photograph of Albert Einstein poking his tongue out and it just clicked. I found this book of quotes by Einstein – which I recommend as a life choice, he was such an insightful man – and I started writing short stories about Einstein and the Doctor, where the Doctor was getting irritated with the great man's buffoonery. He'd be saying, 'Come on, Albert, keep up!' and I think that, more than anything, was my way in to the part.
Also
Karen Gillan
is the girl who grabbed the role every actress would die for: the companion to the eleventh Doctor. Fans camped outside the Doctor Who set are a reminder of the show's unique place in British culture.
I was never really into science fiction when I was growing up, though my mum was a big Doctor Who fan. Now I've turned into a real sci-fi geek. Once you get sucked into that world, it has its own logic and laws, which is why I think people are so passionate about it.