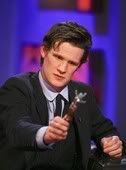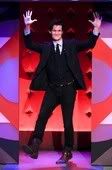 Jonathan Ross welcomes Eleventh Doctor
Matt Smith
onto his Friday night chat show tonight.
In the programme, recorded yesterday, Smith talks about becoming the Doctor:
My Doctor is clumsy, a little reckless, but becomes more assured as the series develops. I couldn't tell anyone for three months, To my mind it's the best part in British TV history. I spoke to David briefly, he said 'enjoy the ride'
On the TARDIS, he reveals there have been some changes:
It's bigger on the inside, has different levels, other rooms including a library, and is a different shade of blue outside. I hope to do at least another year, it's a wonderful part and I want to keep it.
There's also an exclusive sneak preview of episode six of the new series, the Doctor's encounter with vampires.
Smith is joined on the programme by Emma Thompson and Professor Brian Cox. The programme is on BBC One/BBC HD at 10.35pm and will be shown on BBC America at a later date. NB: Quotes are taken verbatim from the studio recording and may not actually be included in the transmitted version of the programme.