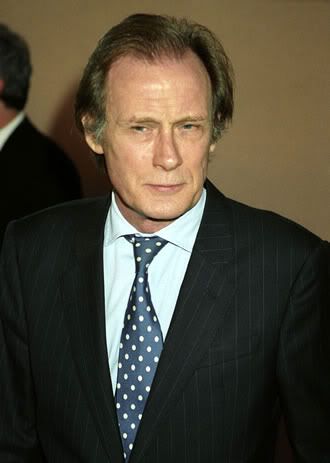 Actor
Bill Nighy
, star of films such as Love, Actually and the TV drama serial State of Play, is to appear as a guest star in the forthcoming 2010 series of
Doctor Who
, according to the
Digital Spy
website. The website quotes a "set insider" as confirming the casting, apparently in the episode written by Nighy's frequent collaborator
Richard Curtis
. The nature of Nighy's role, according to Digital Spy, can be found in the spoiler box below.
Nighy's name has long been associated with rumours concerning the revived version of Doctor Who, frequently attached to speculation that he might be cast as the Doctor. This began in September 2003, the day following the announcement of the new series, when then-Doctor Who Magazine editor
Clayton Hickman
named the actor on BBC Radio 4 as
Russell T Davies
's favoured choice for the role. On March 20th 2004, the very day that the BBC announced
Christopher Eccleston
's casting as the Ninth Doctor, early editions of the Daily Mail newspaper in the UK carried a story stating that Nighy had won the part.
According to the Digital Spy report, Nighy will be playing "a van Gogh expert with some similar fashion choices to The Doctor himself."