DVD extras for two stories in the forthcoming DVD box set,
Myths and Legends
, have been cleared by the
British Board of Film Classification
.
For
The Time Monster
, 35 minutes of extras have been cleared to accompany the six part story.
Between Now... And Now! Science and the Time Monster (Featurette) 23'37"
Episode Three (Restoration Comparison) 3'21"
Photo Gallery 7'59"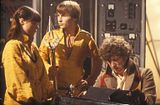 For the four part
Horns of Nimon
, a total of 48 minutes of extras have been cleared.
Who Peter - Partners in Time - 1963-1989 (Featurette) 29'55"
Part Two - Music Demos 2'55"
Scottish Falsetto Sock Puppet Theatre (Easter Egg) 1'18"
Read the Writer - Anthony Read remembers 6'26"
Photo Gallery 7'51"
Details for the third story in the set,
Underworld
, should be cleared soon. The box set is released in the UK on 29th March.