The BBC have
announced
the final game in the first series of the
Doctor Who Adventure Games
: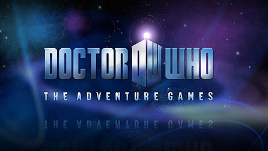 Shadows of the Vashta Nerada
Kicking off immediately after the cliff-hanger ending of episode three, the latest Adventure Game picks up the story of the Doctor and Amy who've materialised just south of London (and about a 1000 miles to the left), inside a sea-bed colony called Poseidon. Shadows of the Vashta Nerada features a cracking plot which surrounds a real-world conspiracy and, of course, it takes place at Christmas.
Steven Moffat
, executive producer and lead writer for Doctor Who: "We've gone all-out for the season finale. Shadows of the Vashta Nerada takes place entirely underwater - something which would be impossible for the TV series, as water is so expensive. It's thrilling, terrifying, educational and fun. Just steer clear of those shadows..."
As one might expect from the title, the storyline will feature the return of the shadowy Vashta Nerada, previously 'seen' in the Moffat-penned episodes from Series Four,
Silence in the Library
and
Forest of the Dead
.
The game is written by
Phil Ford
- author of the first 'gamisode' in the series,
City of the Daleks
- and is due to be released in the
UK
on
Christmas Day
, where it will be possible to download for free from the
BBC Doctor Who
website for both PC and Mac platforms
As with the previous games,
Shadows of the Vashta Nerada
will be available for purchase worldwide on the PC platform at a later date from
Direct2Drive
, who will release both this and the third game
TARDIS
together as a bundle; however, the Mac version will not be available outside the UK.
As we reported in
September
, Season Two of
The Adventure Games
is expected to come out sometime next year, developed by the same team as with the current games.
---
The news came as part of the BBC's 2010
Adventure Calendar
, where you can also download festive wallpaper featuring the Doctor and Amy as part of
Day Two
in the run-down to Christmas.