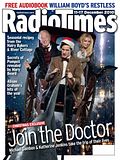 As we expected
last week
,
Doctor Who
once again adorns the cover of a
Radio Times
for Christmas, this year on the issue dated 11th-17th December 2010. The cover art features Matt Smith, Sir Michael Gambon, and Katherine Jenkins "taking the trip of their lives", with the magazine featuring a three page article on the forthcoming Christmas Special,
A Christmas Carol
.
As well as discussing the programme, Matt Smith reflects on his first Christmas outing as the Doctor:
It was a great privilege to do it. It's something I've always wanted to do since I started the show. I love Christmas, plus I've always wanted to film something in July that has got snow in, loads of snow ... it's very Christmassy.

Katherine Jenkins also talks about getting what is her first acting role:
It was far worse than any nerves I've ever had for any performance. I spent a lot of time thinking about it; it's such an iconic show, and it's one that we watch as a family. I just thought, "I'd love to give it a try." But I'm the first to say I don't really consider myself an actress. So, I asked if I could go in and read to them and I thought, "Well, if I'm rubbish they won't give it to me, will they?" So I read to them and they called me on my 30th birthday and offered me the part.

You can read more about the Special, Matt Smith and Katherine Jenkins's thoughts of working alongside Sir Michael Gambon - plus their own singing talents - in the issue, available in the shops from 2nd December. The traditional double-issue of the Radio Times for the Christmas period will follow a couple of days later on the 4th December.
This is the sixth consecutive year that there has been a special cover for Doctor Who at Christmas, one for each Christmas since the series returned (seven covers if you also include the Dalek-variant version of the Christmas 2009 edition). You can see these and all other Doctor Who covers on the
Radio Times website
.