The Sun
reports the Doctor Who Christmas Special,
A Christmas Carol
, has been scheduled for
7:00pm
on Christmas Day.
 5.30 TBA
 6.30 TBA
 7.00 Doctor Who
 8.00 The One Ronnie
 9.00 The Royle Family

No further information on the two "TBA" entries is known at present, though previous years have seen an edition of
Eastenders
and
Strictly Come Dancing
broadcast on Christmas Day.
Scheduling for the period has yet to be finalised, so the times/programmes might change.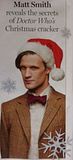 Meanwhile, in the
Radio Times
for the
11-17th December
: "Matt Smith reveals the secrets of Doctor Who's Christmas cracker". Though not mentioned in the preceeding issue, recent years have seen a cover dedicated to Doctor Who over the run-up to Christmas (you can see
previous covers
on the Radio Times website).
The Radio Times site also has a
preview
for
A Christmas Carol
.
It is still possible to
order
the Radio Times exclusive posters and Companion guide.