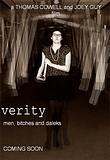 A short film about
Verity Lambert
and her struggle to get Doctor Who made will broadcast online in early December.
The film is written by two film students from the University of Central Lancaster.
Thomas Cowell
and
Joey Guy
have produced the ten minute biopic which will focus on the key stage of production for the very first episodes of Doctor Who between August and December 1963. More details about the production of this film can be found
here
.
London, 1963. Verity Lambert, the woman in charge of the BBC's new children's show, is facing somewhat of a struggle. Not only has she got to make a TV show with the entire scope of time and space (on a small budget), but she also has to face bitchy co-workers and arrogant male peers.
"
Verity
" shows how she fought for the Daleks right to exist on TV, battled against jealous co-workers and ended up triumphant with a national success on her hands. It will be broadcast on
YouTube
in early December.
You can follow updates at
Thomas Cowell's blog
.