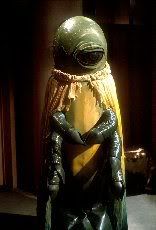 The two Peladon stories,
The Curse of Peladon
and
The Monster of Peladon
, will be released on DVD in January 2010.
The news was revealed by Dan Hall, commissioning editor for DVD company 2 entertain, at the Time and Again convention in London. The release replaces the King's Demons/Planet of Fire boxset which has been delayed due to clearance problems.
The Curse of Peladon was originally shown in 1972. In four parts, it stars Jon Pertwee as the Third Doctor along with Katy Manning and David Troughton.
The Monster of Peladon was Pertwee's penultimate story, shown over six parts in 1974. It features Elisabeth Sladen and Donald Gee.
Hall also indicated that a further Third Doctor story,
The Time Monster
, will be released in 2010 and that a "re-visitation" boxset, featuring new versions of early DVD releases, is in production.