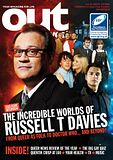 The Christmas edition of
outnorthwest
, the free monthly magazine of the Lesbian and Gay Foundation, features an interview with Doctor Who Executive producer
Russell T Davies
.
The Magazine is available online.
PRESS RELEASE
To see big, noisy, public people being gay, and being happy, is a really important thing." - Russell T Davies.

Russell made his name as the creator and writer of the groundbreaking gay drama Queer as Folk; aired on late night Channel 4, it was the first UK TV drama to be centred around gay, bisexual and lesbian characters. Now, ten years later, he's prime time BBC 1, celebrated for reinventing Doctor Who, and is widely regarded as the most powerful writer in UK television.

In the interview, Russell talks openly about the responsibility he feels as a gay public figure to be as visible as possible, to highlight LGB people leading happy, positive and successful lives:

"Every interview I do I mention the fact that I'm gay, but I think that if your 15, to see big, noisy, public people being gay and being happy is a really important thing."

He also slams the critics who accuse him of bringing a gay agenda to Doctor Who: "If people genuinely see it as a problem, then the problem is theirs. Their life is small, inhibited, and stunted. They're not living fully, their heart isn' t open, their mind isn't open."

outnorthwest also gets the low down on Russell's career, from Queer As Folk to Doctor Who, his favourite TV shows and his celebrity crushes.

Russell has close contacts with Manchester; he still lives in the city, and many of his early shows were set there, he is also a patron of the Manchester based Lesbian and Gay Foundation. He stressed that talking to outnorthwest gave him the opportunity, "to pay something back."

Grahame Robertson, Editor of outnorthwest said:

"We first spoke to Russell nearly ten years ago, at the height of Queer As Folk-mania. Since then he's gone on to become the most influential person working in television today. I'm over the moon he's taken the time to speak to us again."

So, to find out if Russell spills the beans on any Doctor Who storylines, download or grab yourself a copy of outnorthwest!