Thursday, 31 January 2013 - Reported by John Bowman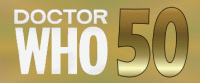 The seventh instalment in our series looking at events leading to the creation of a true TV legend.
As stated in
our previous feature
, having joined the BBC in December 1962 as its new Head of Television Drama,
Sydney Newman
,
pictured below
, had been somewhat dismayed from the off, feeling that most of the directors, although perfectly nice people, were stuck in old-fashioned ways. He needed to implement long-overdue changes to re-energise the department - and a newly-published report helped the "new broom" do just that.
The
Pilkington Committee
, chaired by glass magnate
Sir Harry Pilkington
, had been appointed in
July 1960
to look into the organisation of the entire broadcasting industry and programmes. It eventually reported in
June 1962
, and among its recommendations it said that the BBC should be awarded a second national TV channel as an alternative to what was perceived as a populist approach by the BBC (whose Television Service had begun regularly-scheduled electronically-scanned programmes on 2nd November 1936 and was renamed and restyled BBC tv in 1960) and its commercial rival ITV (which began broadcasting on 22nd September 1955, initially in the London area). As a result, BBC2 (as it was originally styled) would be launched on 20th April 1964, with BBC tv becoming BBC1.
Then, in
January 1963
- 50 years ago this month - Newman received some very welcome news. He would later recall being summoned to the office of
Kenneth Adam
, the BBC's Director of Television, to be told that as a result of BBC2 being given the go-ahead the Drama Department would now have a 40 per cent budget increase. Newman said:
Of course, that opened the door. I could then hire people whose work I liked. So I put the word around, and many of the directors and writers who worked for me at ABC - Philip Saville, Ted Kotcheff, Peter Luke and so on - came over to join me at the BBC.
One of the far-reaching decisions Newman made during January 1963 was to disband the Children's Department at the BBC, meaning that every children's drama programme would now be made by the Drama Department.
Further fundamental changes to working practices followed. Newman had found the Drama Department an unwieldy beast and impossible to control by himself. He therefore took the decision to break it down into three separate departments: Series, Serials, and Plays - each of which had its own head with direct control but doing his bidding.
In addition, Newman gradually abandoned the all-in-one producer/director role, replacing it with the production-team style used greatly by ITV and, hitherto, to a far lesser degree by the BBC. Directors would be appointed - either from staff or on a freelance basis - to make individual episodes or programmes, whereas producers would now act in a more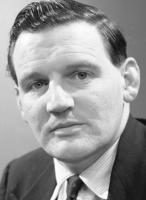 executive capacity, with total financial and artistic control over a specific project. A story editor would also form a permanent part of the team, and their job would be to find writers and work with them to produce scripts. A move that would take some three months to fully put into place, this brave new world of drama production would ultimately see the Script Department become mostly redundant, leading to its eventual closure.
During
March 1963
, Newman would also hold talks with
Donald Baverstock
,
pictured left
, newly promoted from being BBC tv's Assistant Controller of Programmes to the role of Chief of Programmes for BBC1 (in anticipation of the launch of BBC2), and
Joanna Spicer
,
pictured far left
, the Assistant Controller (Planning) Television, on the need for a new drama serial to plug an important gap in the Saturday-evening schedule.
Here's what Newman would later say about it:
As Head of the Drama Group, I was privy to problems of scheduling. Probably articulated by Donald Baverstock or [Controller of Programmes] Stuart Hood, there was a gap in the ratings on Saturday afternoons between BBC's vastly popular sports coverage [Grandstand], ending at 5.15, and the start at 5.45 of an equally popular pop music programme [Juke Box Jury].

What was between them was, I vaguely recall, a children's classic drama serial, ie, Charles Dickens dramatisations, etc. This could be moved to Sunday if the Drama Department could come up with something more suitable.

So, we required a new programme that would bridge the state of mind of sports fans and the teenage pop music audience while attracting and holding the children's audience accustomed to their Saturday-afternoon serial . . . The problem was, as I saw it, that it had to be a children's programme and still attract adults and teenagers. And also, as a children's programme, I was intent upon it containing basic factual information that could be described as educational - or, at least, mind-opening for them.

Among the possibilities was a series centring on two lads in a boys' school, but Newman later settled on a science-fiction show. He gave a general outline of his idea to Baverstock and Spicer, who were extremely positive about it, and Newman subsequently asked
Donald Wilson
, head of the still-remaining Script Department, to think of format ideas for a 52-week science-fiction series made up of shorter serials. A meeting in Wilson's office was then scheduled for
26th March
to talk about suggestions for the new series, using as the basis for discussion the
April 1962
and
July 1962
Survey Group reports concerning science-fiction.