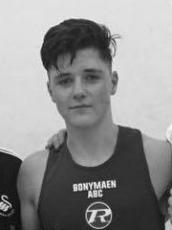 William Hughes
, the actor who played the Master as a young boy, has died at the age of 20.
William Hughes played The Master in the 2007 story
The Sound of Drums
. At the age of eight, he was the youngest actor to play the renegade Time Lord. He also appeared in the 2008 Torchwood story
Sleeper
.
Hughes, from Mumbles in Swansea, Wales, gave up acting shortly after appearing in Doctor Who. His interests turned to Boxing, joining the Bonymaen ABC boxing gym in Swansea.
Fighting for the club he won 3 Welsh titles, before winning gold and bronze at the Great Britain championships. He won Gold at the 2017/18 British Universities and Colleges Sports Championships.
He was described as tremendously talented by former World Champion boxer
Enzo Maccarinelli
, who mentored the young athlete.
Absolutely heartbroken my little protege Will Hughes passed away today words can't describe what the young man meant to me I loved him like family rest in peace will x
Hughes studied at Bishop Vaughan Catholic School in Swansea, where he was described as an exceptionally talented sportsman.
His warm and gentle character meant that he had many friends and they, the staff and the governors all hold his family in their thoughts and prayers at this very difficult time
Hughes had just completed he first year of a finance degree at
Queen Mary University
in London. It is believed he died on 9th July while on holiday on the Greek island of Corfu. A spokesman for the Foreign & Commonwealth Office confirmed their staff were supporting the family of a British man following his death in Corfu and were in contact with the Greek and UK police.