Sunday, 12 May 2013 - Reported by Marcus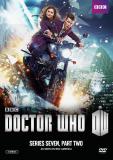 Some fans in America have been enjoying the Doctor Who series finale early due to a mistake in the American distribution of the Series 7 Blu-rays and DVDs.
The Name of the Doctor
, which concludes the current series of the show, is due for transmission next weekend in the UK, North America and Australia. The episode is included in the
Series Seven - Part Two
Blu-ray and DVD sets, which were due to be released on 28 May.
However a distribution error has meant some copies of the discs have already been sent out in North America giving some fans a sneak preview of the final episode.
Doctor Who's brand manager,
Edward Russell
, has appealed to fans who have seen the episode to keep the show's secrets until it is broadcast at the weekend. On twitter he said
Production error in US means DW bluray shipped early. Let's hope no one spoils it for those who want to enjoy it together on Saturday. This is like a Doctor Who version of the Dunkirk spirit! I know some folk want to boast, but it's so much better if we all watch together.
Update Monday
. The BBC have now added on
Twitter
:
"Steven Moffat has promised if fans help keep the finale's secrets, we'll release a special video featuring Matt and David right after the ep!"
. This was also detailed via their
Facebook page
:
We understand that a small number of US fans have received in error their DVD edition of Series 7 Part 2 early. We respectfully ask those fans not to divulge information or post content publicly so that fellow fans who have yet to see the episodes do not have their viewing pleasure ruined.

If everyone keeps the secrets safe until next Saturday we will release a special new clip featuring material of the Tenth AND Eleventh Doctor!

Update Tuesday
. An email has been sent to recipients of the boxed set, as follows:
Dear Valued Customer,

I'm sending this e-mail on behalf of BBC America Shop and understand you've received, or will be receiving, the DVD of Doctor Who Series 7 Part 2 early.

We respectfully ask you not to give away information or post content publicly online so that you don't ruin it for fellow fans who won't see the finale until it airs on Saturday. Lead Writer and Executive Producer Steven Moffat has promised if fans help keep the finale's secrets until after it airs on Saturday, we'll release a special video featuring Matt Smith and David Tennant.

We really appreciate your help in keeping the finale a secret for the rest of your fellow Whovians!

Thank you so much,
Gina Lee
Customer Care