Big Finish
have revealed the cover for
The Auntie Matter
, the first story in the second season of
The Fourth Doctor Adventures
; it stars
Tom Baker
with the late
Mary Tamm
, and is due to be released in January 2013.
Producer
David Richardson
says:
It's astonishing to think that it's only four months until the launch of Season Two, And it's desperately sad to think Mary is no longer with us to enjoy the public unveiling of Romana's return to the Fourth Doctor's side.

However, I have no doubt at all that Mary would want us to forge ahead with releasing these stories as planned, and she'd want them to be a huge success. She certainly worked very hard to finish them, despite her illness.

The story concerns how, whilst the two time travellers are hiding out at the Doctor's house on Baker Street in the early 20th Century, Romana attracts the attentions of Reggie, who is very eager to introduce her to his Aunt...
The cast includes
Robert Portal
as Reggie,
Lucy Griffiths
as Mabel,
Alan Cox
as Grenville, with
Julia McKenzie
as the sinister Aunt Florence.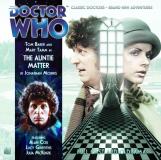 The Auntie Matterby Jonathan Morrisstarring Tom Baker and Mary Tamm
"Well, old Reggie's finally gone and done it now, hasn't he?

It had all started so well. Finally found a filly worthy of taking to Basset Hall for the blasted Aunt's approval, bright young charmer called Romana, then everything goes to pot. Now some Doctor cove's running round the place waving a wand at everything and people are firing weapons at us. It's all terribly uncivilised.

Looks like your hero's goose might be a trifle on the cooked side. It's all so dashed frightening. I wonder if it'll be done for tea?"