Monday, 2 July 2012 - Reported by Marcus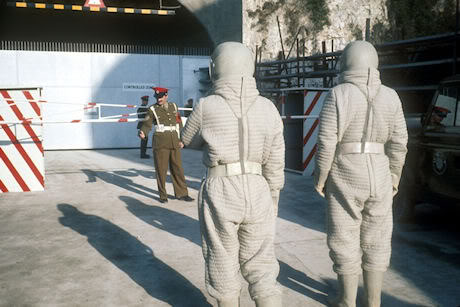 BBC Worldwide has confirmed that the 1970 Doctor Who story,
The Ambassadors of Death
, will be released on DVD in full colour.
The seven part story was made originally made in colour as part of the first Jon Pertwee season, but the only master tape to remain in the BBC Archive is that of Episode One. The rest of the story was only kept as 16mm black and white film.
A second generation colour copy does exist as an off air recording from WNED Channel 17 in Buffalo, New York and this was used to restore episodes five and six to colour for the 2002 Video release. At the time it was not possible to restore the remainder of the story.
With the advances in technology over the last decade, it is now possible to restore colour to the complete story. It was hoped to release the story last year, paired with the 1977 story The Sun Makers, however problems with restoration process caused the release to be postponed in order to allow the restoration team more time to achieve the best results on the story.
It is expected that the DVD will be released later this year.