Friday, 20 January 2012 - Reported by Chuck Foster
BBC Books
have announced the latest in their line of hardback
Doctor Who
novels -
Dark Horizons
sees a new adventure for the eleventh Doctor, written by
Jenny Colgan
.
Doctor Who: Dark HorizonsJ T Colgan
Available for pre-order"Now, you may or may not have noticed, but we appear to be on fire..."
On a windswept Northern shore, at the very tip of what will one day become Scotland, the islanders believe the worst they have to fear is a Viking attack. Then the burning comes. They cannot run from it. Water will not stop it. It consumes everything in its path - yet the burned still speak.
The Doctor is just looking for a game on the famous Lewis chess set. Instead he encounters a people under attack from a power they cannot possibly understand. They have no weapons, no strategy and no protection against a fire sent to engulf them all.
Add in some marauding Vikings with very bad timing, a kidnapped princess with a secret of her own and a TARDIS that seems to have developed an inexplicable fear of water, and they all have a battle on their hands. The islanders must take on a ruthless alien force in a world without technology; without communications; without tea that isn't made out of bark. Still at least they have the Doctor on their side... Don't they?
A thrilling new adventure starring the Doctor, as played by Matt Smith.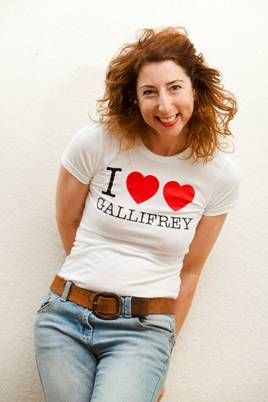 A successful author with some thirteen books under her belt, Jenny Colgan is also a lifetime
Doctor Who
fan, and won a national fan competition aged 11 to meet Peter Davison as the Doctor (who mistook her for a boy!). Speaking about her new book, she said:
Writing Dark Horizons has been, as my friends and family already know, a dream come true for me. I grew up on Terrance Dicks and I'm beyond thrilled to be joining the ranks of Doctor Who novelists.

Albert De Petrillo
, Senior Editorial Director at BBC Books, said:
Our Doctor Who list is a place to showcase talented writers and bold ideas – and it was a sheer delight to discover that Jenny Colgan, whose commercial fiction is so well respected and loved, was a massive Doctor Who fan. And even better to discover she wanted to turn her hand to a Doctor Who novel. We were deeply impressed with the originality and enthusiasm she brought to the task of writing an eleventh Doctor adventure. Dark Horizons is simply a terrific Doctor Who story – fast-paced, thrilling and often quite funny, it captures Matt Smith's Doctor perfectly and introduces some very memorable new characters as well. It's a testament to Jenny's range as a writer of quality commercial fiction, and a book I'm proud to publish on the Doctor Who list.

Dark Horizons
is due to be published on
7th July 2012
.