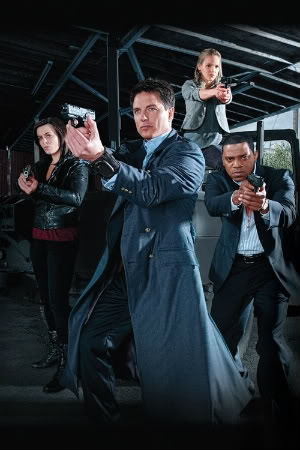 The BBC have now updated their programme information for
Week 28
with details of
Torchwood: Miracle Day
's first episode,
The New World
, which will premiere in the UK on BBC1/BBC1HD at
9:00pm
,
14th July
.
The following is the plot synopsis for The New World which might be considered a spoiler




One day, nobody dies. All across the world, nobody dies. And then the next day, and the next, and the next, people keep ageing – they get hurt and sick, but they never die. The result: a population boom, overnight.

With all the extra people, resources are finite. It's said that in four month's time, the human race will cease to be viable. But this can't be a natural event – someone's got to be behind it. It's a race against time as CIA agent Rex Matheson investigates a global conspiracy. The answers lie within an old, secret British institute. As Rex keeps asking: "What is Torchwood?", he's drawn into a world of adventure, and a threat to change what it means to be human ... for ever.

In the launch episode of Torchwood: Miracle Day, Agent Rex Matheson is impaled in a car crash and miraculously survives, while his analyst, Esther Drummond, sets out to discover what Torchwood is. Far away, in Wales, Gwen Cooper lives in hiding with her husband Rhys and daughter Anwen – she's the last surviving Torchwood member and is determined to stay hidden. In Kentucky, convicted murderer Oswald Danes survives his own execution. And when Esther meets the mysterious Captain Jack Harkness, assassins are activated to kill them all...

---
Last week,
Doctor Who Magazine
editor
Tom Spilsbury
commented on
Twitter
that there would be slightly different versions of
Miracle Day
for the US and UK broadcast, adding
yesterday
that
"they haven't started with one 'master version' and cut it for the UK. They've prepared two parallel edits for different markets."
Russell T Davies
had previously mentioned in his interview with
Front Row
that Jack is a 'childrens hero', and clarifies in the new
Issue 436
of DWM that 'racier' scenes might be edited for a BBC audience.
Attendees at last week's
BFI preview
had reported that
The New World
seemed longer than the fifty minutes originally reported in the
Cannes press release
; this is also confirmed in DWM, with UK episodes expected to run for some 54 minutes whereas episodes on Starz would run for 50-51 minutes. Davies pointed out that this isn't a cut to the US version, but extra material added to the UK one!