Wednesday, 22 June 2011 - Reported by Chuck Foster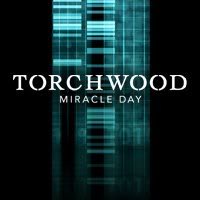 After the blaze of publicity in London for Monday's preview of episode one of
Torchwood: Miracle Day
, another, lower key preview took place in Wales last night as cast and crew gathered to watch in Swansea, where UK filming took place earlier in the year.
The preview took place at the Branwyn Hall (seen itself in the previous series,
Children of Earth
), and as with London the principal cast and crew were available to speak to the press, with an emphasis upon the show's Welsh roots.
Russell T Davies
, who was born in the city, told the
South Wales Evening Post
:
I don't come as often as I should, but it is lovely to be back. Torchwood has such a Welsh heritage, we wanted to bring it here to show it off and repay the city really.

One of the first scenes in the first episode is at the (white National Trust) house in Rhossili. I spent my life wondering what it was like inside and I never thought we would get it, but lo and behold we managed it. It was a joy to film there and it looks epic and huge.

It is an exciting adventure to be in Los Angeles and America at my age (48) but you will always come home to Swansea.

Speaking to the
Western Mail
, he added:
There is a fair bit of swagger in Miracle Day. We go to Dallas, Los Angeles, Washington as well as Wales. Of course, being in America meant more money, more production value, bigger explosions, but it was also very important to recognise Wales. If we had just shot it out there it would not have been believable.

It is a Welsh show with Welsh characters, that is very important and is part of the reason why it works. The story starts in Wales, the middle is in America and it ends in Wales.

Eve Myles
said:
We had the premiere in London on Monday, which was lovely, but this is the one I am really excited about.

It was unbelievable to film at Rhossili, it was wonderful. I had always wanted to live at that house and the beach is where I walk my dog, so it was unbelievable to blow it up!

It is one of the most important things on the whole show, a huge element of it is Welsh, the show will always have a link to Wales."

BBC Wales have released a video with
Bill Pullman
at the event, talking about his character.
---
Russell T Davies
also featured on BBC Radio 4's
Front Row
last night, chatting to presenter Mark Lawson about taking
Torchwood
from the UK into the US,
The Sarah Jane Adventures
, and on other topics like the austerity measures within the BBC, the importance of the watershed, and his enthusiasm for his next writing project.
Having talked about what would happen with
The Sarah Jane Adventures
, discussion then turned towards the audience that would watch
Torchwood
, and that though it isn't aimed for children some would still watch it through its
Doctor Who
/Captain Jack connection. Davies commented:
You have to be quite careful with it, more careful than you'd normally would be, because now obviously Torchwood goes out at 9 o'clock, and we've got it coming up on BBC1 now, but we've never had Captain Jack swear because he's loved by children, and children will come to watch it. So we don't tone Torchwood down as such, there's still strong meat and there's some great visuals and some great gore in this show - and, you know, Captain Jack freely has an open and honest and wonderful sex life, but that's fine - it's just the harsher elements, the swearing and his actions as well - I don't think you're ever going to see Captain Jack stab someone brutally or something like that because he's a children's hero.

Talking about the co-production deal, he said:
The move to America partly coincided with the success of the last series of Torchwood which has allowed us to get co-production money. This new series of Torchwood is in conjunction with Starz, who are a premium cable network over there, so they brought a level of funding that we wouldn't have got from the BBC. I have to say if we hadn't, we could still have made this series. But you know, this co-production stuff is nothing new, you haven't seen a Dickens drama made for about 25 years that didn't have money from Boston in it or something, so this is the way of the world now, co-production money is natural.