Sunday, 13 February 2011 - Reported by Chuck Foster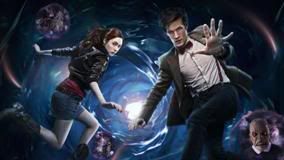 Matt Smith debuted as the Doctor in France last night, with the first three episodes of Series Five broadcast on
France 4
Le Prisonnier Zéro
,
La bêtes des bas-fonds
and
La victoire des Daleks
were shown together during the evening and achieved a rating of
453,000
viewers, representing
2%
of the audience watching television in France (viewing figures for the evening as a whole may be seen via
Ozap
).
Series Five has started off well, gaining more viewers than David Tennant's swansong,
La Prophétie de Noël
, which achieved 416,000 viewers over Christmas Day (but was pipped to the post by
La Conquête de Mars
with 504,000 viewers in October).
French viewing for the rest of the month consists of
Le labyrinthe des Anges
(pts 1+2) and
Les Vampires de Venise
next weekend, and
Le Seigneur des Rêves
and
La révolte des intra-terrestres
(pts 1+2) on the 26th.
France 4 trailer for Matt Smith's first series (via YouTube)
(we leave our readers to enjoy translating the French titles!)