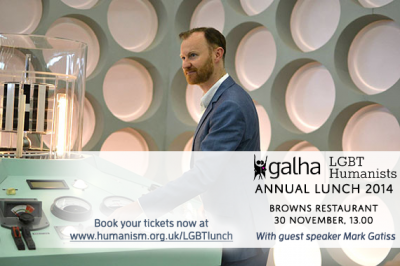 Doctor Who writer and actor
Mark Gatiss
is to speak at Annual Lunch for Galha LGBT Humanists
Gatiss, who also penned the Emmy nominated drama
An Adventure in Space and Time
, will be the special guest speaker at an event in London on
30 November
celebrating Galha LGBT Humanists, a network for lesbian, gay, bisexual, and transgender humanists.
Gatiss is the writer and co-creator of
Sherlock
, and writer of
League of Gentlemen
, and has appeared in in fan-pleasing recurring roles in shows like
Game of Thrones
and
Being Human
.
He has been a firm supporter of campaigns for LGBT rights, as well as humanist activism, over many years. At the Galha Annual Lunch, he will be talking with guests about his commitment to these issues, and toasting to another successful year for Galha, which brings together LGBT people for special events and promotes equality and diversity, particularly in respect of sexual orientation and identity matters.
The lunch, which will be at Browns Covent Garden in central London, will see Gatiss honoured with the 2014 LGBT Humanists award, and will also feature a fundraising raffle. All profits will go directly to funding Galha's activities.
Riccy Unwin, Chair of Galha LGBT Humanists, said
Mark is a fantastic actor and writer, and we couldn't be more pleased to have him as the guest of honour at this year's Annual Lunch. The Annual Lunch is always one of Galha's most popular events, and this year is shaping up to be a very special occasion. Any fans of Mark 's who are curious about what we do and would like to come along are more than welcome to join us at Browns on 30 November.
Tickets
for the event are on sale now.