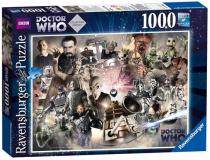 Ravensburger
have
released
a new
Doctor Who
puzzle this month in the lead-up to the return of the series on-screen. The 1000 piece "Collector's Edition" puzzle shows monsters from both the past and present, and measures 70x50cm.
Based on the iconic BBC television series Doctor Who, the new puzzle depicts some of show's most infamous characters including the Doctor's most fearsome enemies such as the Daleks, Weeping Angels and one of the most frightening ever The Silence. The designs show over 20 characters within a space setting, ensuring plenty of puzzling fun as fans assemble the scene!

Eagle-eyed readers will recognise the puzzle image as an extension of the 'monster' artwork released by
Tea-Lady Design
earlier this week!