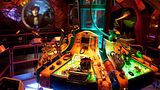 Tickets for the
Doctor Who Experience
in Cardiff Bay went on sale today.
The attraction, which had been in London for a year, closing in February, opens in Cardiff on
Friday 20th July
, where it will be based for at least five years.

Philip Murphy
, the managing director of BBC Worldwide Live Events, said:
The Doctor Who Experience is a celebration of the iconic BBC series and moving to our new home at Porth Teigr in Cardiff Bay, just minutes from where the BBC Wales television series is made, is incredibly exciting. Visitors to the Experience in Cardiff will be able to fully immerse themselves in the world of Doctor Who.
The BBC describes the Experience as the first interactive
Doctor Who
exhibition, which invites visitors to star in their very own adventure. Arriving at the venue they step through a crack in time to become the Doctor's companion, taking on the challenge of reuniting the Doctor with the TARDIS while fending off threats from some of his most fearsome foes - entering a Dalek spaceship and finding a way through a maze of Weeping Angels.
Featuring a replica of the Eleventh Doctor's TARDIS, which visitors get to fly themselves, the interactive walk-through section culminates in a 3D finale that sets the scene for the exhibition, which boasts the world's most extensive collection of original
Doctor Who
costumes and artefacts stretching back almost 50 years to the first series.
The content of the exhibition will be updated constantly with new items from the TV series to ensure that it is ever-changing, offering fans the chance to get up close to the sets, costumes, and props that feature in the show. New items to be shown to the public for the first time in Cardiff will include the Doctor's cradle seen in
A Good Man Goes to War
, the Silence spaceship, and the Doctor's sonic cane from
Let's Kill Hitler
, with many more items being kept under wraps until the doors open next month.
As well as the relaunched website, the Experience can also be followed on
Twitter
.