A roundup of some of the fan productions that have recently been released.
Whotopia 22- Monsters and Villains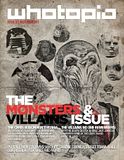 Editorial: A Kind of Menace - Jez Strickley
Pride and Cyberprejudice - Michael S. Collins wades in with an epic analysis of the Cybermen
Chris Boucher Interview - Jez Strickley talks with the man behind Leela, Taren Capel and the Fendahl, not mention his influence on a certain rival sci-fi series
Quite Masterly - No Doctor Who rogues gallery would be complete without the Master, Gary Phillips investigates
The Sylvester McCoy Villains - Ian Wheeler examines the villains who menaced the Seventh Doctor
The Villains No One Remembers - With the Eighth Doctor in mind, Jake Johnson considers some of the least talked about villains
The Most Wacky Monsters - Bob Furnell asks what the designers were thinking when they conjured up some of the series' more unusual monsters
Torchwood Series 4 Overview - Craig Charlesworth gives us his take on the first five episodes of the latest instalment of RTD's brainchild
The Weeping Angels - perhaps the series' most frightening monster since 2005, Emily Jones takes a look and tries not to blink
Dalek's Advocate: The Case for the Foamasi - Those Mafia-esque bad boys take some defending, Bob Furnell tackles the challenge
Wholife: Music and Villains - Grant Bull comments on a certain Beach Boys song as the soundtrack to the Doctor's life
Fanzine Corner - In this ongoing series of fanzine reviews, Bob Furnell continues his voyage into fan writing
Newish Adventures: Final Frontier Review - AJ Gulyas returns with another look at the New Adventures book series
Target Trawl -Nick Mellish uncovers a renegade Time Lord, anti-matter monsters and mutan as he presents three more Target readings
Screwdrivers, Scaries and Scarves: The Monster Revealed - Jez Strickley considers one of the series' staple scare-making devices
Now available to download in PDF format from the
Whotopia website
Rassilon's Rod #4

THE MOORCOCK DEFENCE looking at fan approaches to Talons' alleged racism
TIMEWYRM AT 20 The 20th anniversary of the NAs - how does the Timewyrm series stand up?
OPINION Fans should shut up!/Fans should complain loudly!
MY FIRST DR.WHO The TVM through the eyes of an 8 year old
MATRIX DATA W*NK Your dr.who queries answered by the cast from 'The Pirate Planet'
WHY I LOVE Captain Wrack
CONVENTION CAPERS hobnobbing with dr.who stardom
PLUS!!! Tip Top Top Tips, Turlough the Agony Aunt, stupid toons, The Krotons part 4
Now available to order from
davidmacgowan@hotmail.com
. UK Paypal gift £1.50 REST OF WORLD Paypal gift £3.