Big Finish
are to offer the first series of the popular spin-off
Jago and Litefoot
for a special discount this weekend: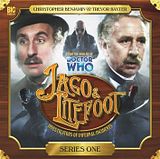 The acclaimed Doctor Who spin-off audio
Jago and Litefoot
has triumphed in the Doctor Who Magazine poll, with Series Two voted as the Best Big Finish Audio of 2010. Series One is close behind, coming in at joint Fifth.
To celebrate, for one weekend only, Big Finish is providing a special discount offer. On Saturday 19th and Sunday 20th November, the Series One box set will be available for just £20 on CD and download only at
www.bigfinish.com
Jago and Litefoot
stars Christopher Benjamin and Trevor Baxter, reprising their iconic roles from the 1977 story The Talons of Weng-Chiang. In the first series, which also features Lisa Bowerman, Conrad Asquith and Toby Longworth, the infernal investigators take on the sinister Doctor Tulp.