BBC Worldwide
has launched two new Doctor Who hand crafted glass tree decorations for Christmas this year, as detailed in the press release below:
Doctor Who: Hand-Crafted Glass Dalek or Tardis Tree Decoration
Forget everything you ever knew about Daleks and imagine that this one comes in peace for Christmas, dressed all in red and rendered temporarily harmless. And wherever there is a Dalek the TARDIS is sure to be close behind. Materializing on Earth just in time for Christmas, its classic TARDIS blue colour and instantly recognizable chassis give your tree an intergalactic touch, from far beyond the brightest star the human eye can see.
Each hand-crafted glass Dalek Christmas decoration is styled in the traditions of mouth blown glass. Skilled artisans have hand painted each ornament with intricate details. This is certain to make your Christmas tree unique and stylish. RRP only £13.99.
Doctor Who Series 6 DVD & Exclusive Dalek & Tardis Tree Decorations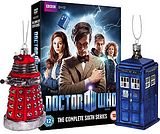 The Doctor, Amy and Rory return to face monsters, mysteries and adventures all across time and space in the action-packed sixth series. Billed as the biggest and best series yet, all 13 thrilling episodes of Series 6 together with host of exclusive Doctor Who Series 6 is now available in this wonderful Doctor Who Christmas bundle.
Including both the hand crafted glass Dalek and Tardis tree decorations. A must have Christmas present for any fans of the show, available from BBC Shop priced only £57.99.