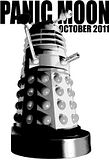 October's issue of the fanzine Panic Moon is now available.
In this issue:
Reviews of each episode from the second half of series six, plus Torchwood: Miracle Day
The latest from Big Finish and recent Doctor Who fanzines.
New perspectives on the stories Colony in Space and The Sun Makers.
Articles exploring the Pathfinders legacy for Doctor Who; the Hartnell factor
Evolution in Doctor Who
The Day of the Daleks 'Special Edition'; and what that Dalek was doing in the Thames.
Plus the letters page
The fanzine is A6 format, 32 pages, monochrome and fully illustrated. It can be ordered from the Panic Moon
Website
.