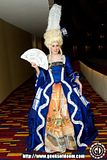 Dragon*Con 2011
featured a number of Doctor Who costumes some of which can be studied on the
Geeks of Doom
Website.
Amongst the Daleks, Doctors and assorted villains parading through the streets of Atlanta was this version of the TARDIS. Created by
Kelldar
, the inspiration for the dress came after getting an incorrect shade of blue fabric for a Marie Antoinette dress she wanted to make.
Meanwhile across the nation at the
Burning Man Festival
in the Black Rock Desert, Nevada, tens of thousands of participants gathered to create Black Rock City, dedicated to community, art, self-expression, and self-reliance. Part of the Festival is the presence of hundreds of art cars or mutant vehicles gliding through the desert including, this year, a rather large
DALEK
.