2|Entertain
have now released details on next month's DVD release,
The Sun Makers
; this story marks the completion of Season 15 on DVD, the penultimate adventure under producership of Graham Williams, and brings the remaining list of Fourth Doctor adventures still to be released down to four (five if the incomplete
Shada
is included).
The Sun Makers
Release Date: 1st August 2011
(available for pre-order)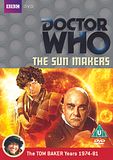 Starring Tom Baker as Doctor Who, with Louise Jameson as Leela
Written by Robert Holmes
Directed by Pennant Roberts

Broadcast: 26th November 1977 - 17th December 1977
Far in the distant future, Earth has become uninhabitable, forcing mankind to colonise first Mars, and then Pluto...
No longer the coldest planet in the Solar System, Pluto is now warmed by a series of artificial suns. But access to the sunlight is limited to a select few... The majority of the citizens of the vast Megropolis cities are being overworked and overtaxed by the ruling elite, led by the Gatherer, and the sinister Collector.
When the Doctor, Leela and K9 arrive they discover that all is not well on Pluto. The human population is being totally exploited, while deep in the Undercity, a small band of rebels seeks to overthrow the mysterious 'Company' that controls all aspects of everyday life.
As the situation gets more desperate, the Doctor is forced to fight the oppression of the evil corporate rulers of Pluto. And their taxes...!
Special Features
Commentary with actors Tom Baker, Louise Jameson and Michael Keating, director Pennant Roberts.
Running from the Tax Man – a retrospective look at the making of the story and the science behind it. With actors Louise Jameson and Michael Keating, director Pennant Roberts, writer and historian Dominic Sandbrook and astronomer Marek Kukula.
Outtakes
Trailer – the original BBC1 trailer for the story.
The Doctor's Composer – Part Two – the concluding part of the series looking at the career of prolific composer Dudley Simpson, covering his work on the show in the seventies.
Photo Gallery – production, design and publicity photos from the story.
Coming Soon – a trailer for a forthcoming DVD release.
Radio Times Listings in Adobe PDF format.
Programme subtitles
Subtitle Production Notes
---
Meanwhile, the Classic Doctor Who team have continued to keep readers appraised with the developments on future releases over Twitter (summary over the last month detailed below). Amongst the tidbits are the completion of
Revisitations 3
- due to be released next year, and that while
Elisabeth Sladen
sadly hadn't recorded any further commentaries,
Nicholas Courtney
will feature on
The Ambassadors of Death
, and
Barry Letts
on
The Mind of Evil
.
05 Jun Mark Ayres: 4 seconds missing from VHS & US tx masters returned to @classicdw
       Colony in Space for DVD. Restores 2 lines of dialogue. 
06 Jun ClassicDW: Cracking doc on THE DAEMONS from Chris Chapman signed off.
       Sue Hedden worth the price of DVD alone. What a great character!
06 Jun Mark Ayres: Colony in Space - restored soundtracks and mixed commentaries for
       @classicdw DVD release done and delivered via ftp.
08 Jun ClassicDW: Enjoyable doc from James Goss signed off. 
       First in a series, and featuring Louise Jameson.
08 Jun Ed Stradling: Happiness Patrol making-of being heavily cut down today. Some of cut
       material may be uploaded by @classicdw on youtube if you ask him nicely
08 Jun ClassicDW: Many have asked whether there are any unreleased commentaries featuring 
       N Courtney, L Sladen or B Letts.
08 Jun ClassicDW: Sadly there are none unreleased Elisabeth comms. 
       Nick appears on AMBASSADORS OF DEATH, and Barry on MIND OF EVIL.
08 Jun Ed Stradling: @classicdw worth RTing that Barry will also appear in vision discussing all
       of his serials except 'Death to the Daleks', and other features
08 Jun ClassicDW: Final PARADISE TOWERS sleeves approved and off to the printers!
09 Jun Mark Ayres: Much of the week so far spent working on @classicdw @Thetamation @bigfinish
       Reign of Terror. Now: a day-trip to Svartos.
12 Jun Ed Stradling: I am crap at deciding programme titles. I have "Studio Svartos" for the
       Dragonfire making-of. Can any #doctorwho fans think of a better one?
13 Jun Ed Stradling:  @Xander, @Babelcolour and @NicholasPegg "Fire and Ice" is now the title
       of the Dragonfire doc.
14 Jun Ed Stradling: Shooting with Shaun Ley for a feature on the Happiness Patrol DVD 
       @classicdw http://t.co/4HWOQ0A
15 Jun ClassicDW: REVISITATIONS 3 completed! Sterling work from the team. Looking at release
       first half 2012. VidFIRED TOMB looking great. :)
16 Jun Ed Stradling: Very very busy on graphics and title bumpers for DW Happiness Patrol.
17 Jun James Loosemore: Just finishing off the final mixes of my arrangement of the
       Doctor Who Theme for @classicdw
18 Jun Chris Chapman: Seems like my next @classicdw shoot will be in late July - all
       outdoors on location, always a bonus!
21 Jun Chris Chapman:  Have a feeling that our Reign of Terror @classicdw doco could be 
       one of the best topics we've tackled - now just need a bit of good luck!
22 Jun Ed Stradling: krotons already commissioned for a making-of. Not sure about ice warrs.
23 Jun Ed Stradling: Dragonfire DVD doc finished and playing out to tape.
24 Jun Mark Ayres: Mastered audio for @classicdw Dragonfire and The Happiness Patrol DVDs
       all complete and delivered.
25 Jun ClassicDW: Changes made to the VAM packages for KROTONS and PLANET OF GIANTS
       following suggestions from @edstradling. Should be good! :)
26 Jun ClassicDW: Some lovely First Doctor character tests through from @thetamation 
       for REIGN OF TERROR.
27 Jun ClassicDW: Signed off menus for DAY OF THE DALEKS - Special Edition DVD.
27 Jun ClassicDW: Signed off cracking promo for ACE BOX featuring DRAGONFIRE and HAPPINESS PATROL.
       New graphics in there, marvellously "Breakdance"!
28 Jun Chris Chapman: Opening animation for my @classicdw Death to the Daleks doco shaping up
       nicely! Nice and moody...
28 Jun Mark Ayres: It's very hot in the studio today.
       I put it down to unstable matter interfaces. Nightmare!
29 Jun Ed Stradling: Up bright and early for some GV shots! @classicdw http://t.co/BhbzhzV
01 Jul Chris Chapman: Our @classicdw Death to the Daleks doco is into the home stretch -
       running at around 27mins at present. Feels like a good one!
01 Jul Chris Chapman: Quotes from @classicdw Death to the Daleks doco include:
       "I think Terry Nation was taking the mickey!"
06 Jul Mark Ayres: Given that I have aleady restored this @classicdw title for audiobook,
       DVD mastering should be easy...
07 Jul Chris Chapman:  @0tralala I've done what you asked for! The Death to the Daleks Target book
       is in the @classicdw DVD doco - ARE YOU HAPPY NOW?? :-) 
07 Jul Chris Chapman:  I'm taking requests (caveat: which I can totally ignore) for things YOU
       want to see in the @classicdw GreatestShow and ReignOfTerror docos!
08 Jul Chris Chapman: Right! I've just sent @classicdw my nearly-final cut of our
       Death to the Daleks doco - 'Beneath the City of the Exxilons'. Hope he likes it!

---
Some artwork has also been released for Italian versions of classic
Doctor Who
stories, which are distributed by
DNC Entertainment
; a number of titles have been mentioned including
I Dalek Invadono La Terra
,
Gli Inizi
,
I Semi Della Morte
,
L'Invasione
and
Il Lardo Di Menti
.