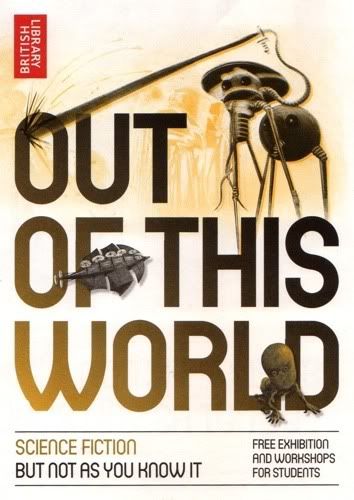 Out Of This World
is a new exhibition that has opened at the
British Library
in London, and explores science fiction in its many forms.
The exhibition will trace the development of the genre from True History by Lucian of Samosata written in the 2nd century AD to the recent writings of Cory Doctorow and China Miéville, showing how science fiction has turnednfrom a niche into a global phenomenon.

Visitors to the exhibition will discover an interactive space based on 'other worlds' presented by science fiction. These will include: Alien Worlds; Future Worlds; Parallel Worlds; Virtual Worlds; the End of the World and the Perfect World. Each area will draw on a variety of exhibits, multi-media interactives, film and sound to experience new surroundings and ask questions such as: 'who are we?', 'why are we here?', 'what is reality?' and 'what does the future hold?'

It features a selection of the Library's extensive collection in this genre, from some of the earliest science fiction manuscripts like Thomas More's
Utopia
from 1516 through to modern best-sellers like
The Time Traveller's Wife
by Audrey Niffenegger; these are supplemented with exhibits covering film, television and radio.
The guest curator of the exhibition,
Andy Sawyer
(Director of Science Fiction Studies, University of Liverpool), said:
There is no doubt that science fiction has split literary experts for decades and remains a source of debate and discussion across the world. What this exhibition shows is that science fiction is a way of asking questions about the world, its future, and our place in it that has roots in a number of literary traditions and cultures. What we call 'science fiction' has a long tradition and will continue to dominate popular culture for a long time to come.

Katya Rogatchevskaia
, British Library co-curator, added:
This exhibition aims to show that science fiction provides a window on the world and society in which we live today. It pushes the boundaries of our imagination into uncomfortable and pleasant places and appeals to our desire to understand a deeper meaning of other worlds. We hope that visitors' perceptions of science fiction will be challenged by this exhibition so that we can both celebrate the genre and use it as a warning for the future.

Of course a project like this wouldn't be complete without reference to
Doctor Who
, and amongst the displays visitors can encounter exhibits such as the TARDIS, steampunk K-1889, and composer Francis Chagrin's original score for
The Dalek Invasion of Earth
.
The show is also represented amongst the series of events running alongside the exhibit:
The Art and Science of Time Travel
10th June, 6:30-8:00pm
From
A Wrinkle In Time
to
Doctor Who
and Kurt Vonnegut's
Slaughterhouse 5
the concept, appeal and paradoxes of time travel have inspired many mind-boggling flights of the imagination. Join the creators of two superb recent experiments with the idea:
Stephen Baxter
, whose
The Time Ships
is a sequel to HG Wells, and
Audrey Niffenegger
, the author of the best selling
The Time Traveler's Wife
. Plus acclaimed science writer
John Gribbin
as the evening's authority on the theory and logic of time travel, and
Doctor Who
writer
Paul Cornell
. Chaired by legendary SF publisher
Jo Fletcher
.
The
Discovery Channel
are broadcasting a number of associated programmes to accompany the exhibition, and there is also a
tie-in book
by Mike Ashley.
BBC News
reported on the exhibition's opening on the 19th May (video).
Out Of This World
runs until 25th September, admission free.