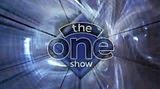 Matt Smith
appeared on the
The One Show
this evening, where he chatted about finding football more nerve-wracking than the BAFTAs, his stunt work in
Doctor Who
, and of course next week's
The Almost People
- as much as could be revealed at any rate - during which he also described the Doctor as the
"cleverest and vainest man in the world, sadly"
. The item was accompanied by a previously unseen clip from Saturday's episode.
When asked if he's carrying on in the role, Matt answered he would be for the foreseeable future, and on next season:
"I hope so! If not then I'm panicking!"
. A short Q&A session occured at the end, in which Matt said
Day of the Moon
was his favourite episode (so far!), the Silence were the scariest monster, and the Silence/Weeping Angels as his favourite (host
Matt Baker
also commented on how he'd been lambasted by fans for calling the character "Doctor Who" when soliciting for the questions
Twitter
earlier in the day!).
The programme is available to watch in the UK on the
BBC iplayer
for the next seven days.
---
&nbsp:
The
BBC
have now the made the clip available to watch online: